Custom Design/Build Contractor Site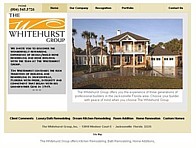 A Case Study Whitehurst Group
Custom Web Site for High End Remodeling Company
This site's design utilizes color to convey warmth and sunshine.
The new Whitehurst Group website employs extensive web development and search engine optimization, as well as advanced HTML technology to manage design issues. Cool beach colors enhance the presence for this design/build remodeling contractor conveying the quality of their work and the design/build process

When master remodeling contractor Tim Whitehurst contacted us about developing a new look for their Jacksonville, Florida business web site, we knew this site was going to need some intensive search engine optimization. The Jacksonville remodeling market is very competitive, so rankings were not going to be easy to achieve.

While many developers think they have the latest trick in search engine optimization, we've always thought treating search engine spiders with a little respect and providing them with good content are the real keys to search engine optimization.

To this end we concentrated on suburbs of Jacksonville where potential clients would most likely live, which did produce good search engine rankings for these locales.