Project Management System
myDesignBuildProject.com SaaS
Provides message system, file sharing and picture galleries for each individual project to share details between contractor, homeowner and subcontractors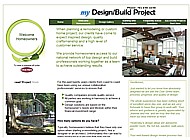 Nationally known as an expert in design/build business training, Joe Dellanno wanted to enhance the design/build experience for his clients with an online web application that would require no new software for users, but would allow them to share files, messages, upload documents, plans, pictures, zip files, PDF files, in short, everything associated with clients' projects that the entire design/build team could share.
We began development in August of 2003 and in seven months had completed the original beta testing and subsequent build out of the 13 modules the site required, in addition to 4 marketing modules to clarify myDesign/Build Project's features.
By far our most ambitious project at the time, this site turned into a little monster that rocks with a mySQL database serving up the dynamic info needed, and providing scalability for a very large membership for this national site.
2012